Tom and Jerry 2x43
Touché, Pussy Cat!
Touché, Pussy Cat! is the 89th one-reel animated Tom and Jerry short, created in 1953 directed by William Hanna and Joseph Barbera and produced by Fred Quimby with music by Scott Bradley. It was nominated for an Academy Award in 1954, the series' final Oscar nomination, while Johann Mouse won the last award for the series a year before.
Touché, Pussy Cat! is a follow-up and a prequel to the 1952 cartoon The Two Mouseketeers which did win the award that year. The cartoon was animated by Kenneth Muse, Ed Barge and Irven Spence, with backgrounds by Robert Gentle. It was released in theaters by Metro-Goldwyn-Mayer on December 18, 1954.
It was the first of the Tom and Jerry shorts to be produced in CinemaScope, but was the second CinemaScope-produced short to be released. The cartoon also exists in a non-Cinemascope format. Touché, Pussy Cat! spawned two further entries in the "Mouseketeer" series of Tom and Jerry cartoons, namely Tom and Chérie in 1954, and Royal Cat Nap in 1957, released 1958.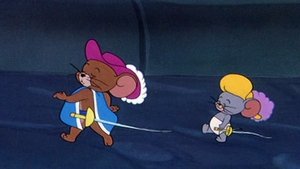 18/12/1954